Facebook
Instagram
Sir Walter DNA Certified Turf - Premium Buffalo Grass

Sir Walter DNA Certified is still the same, much loved Aussie lawn that has been Australia's No. 1 Buffalo for over 20 years.
Sir Walter Buffalo Lawn has stood the test of time, proving time and time again that it will go anywhere and grow anywhere; in full sun or shade, in extreme heat, frost or drought. It's still the same Sir Walter and to keep it that way, we're DNA certifying it. Sir Walter DNA Certified will continue to show these great qualities, with the assurance the product you are purchasing is true Sir Walter with genetic assured purity.
Born right here in Australia, Sir Walter was bred to be tough yet soft and good looking to boot! Since 1997 there has been over 70 million square meters of Sir Walter sold Australia wide - that's the equivalent of over 500,000 Aussie homes!
There is really no match for Sir Walter DNA Certified in Sydney.
Reasons why Sir Walter DNA Certified is a great choice!
Australia's No.1 buffalo lawn
Comes with a 10 year product warranty
Low maintenance - requires little mowing and fertilising
Disease & fungus resistant
Great in full sun & shade
Weed & insect resistant
Low water requirements
Environmentally friendly
Wear resistant
Self repairing
Salt tolerant
Soft to touch
Low allergy

Usage
Generally Sir Walter is the ideal lawn for problem areas, particularly if you have trees that cast shade over your lawn or have previously had trouble growing other varieties in that space.
Being a low maintenance, evergreen lawn, Sir Walter is the perfect choice for your family lawn and is the answer if you have high traffic areas, pets or a heavily shaded lawn area.
Maintenance
Sir Walter should be maintained at about 40mm to give a beautiful soft feel to the lawn.
If installed in a shady position, it should be kept longer at all times to allow more growth to compensate for the lack of sunlight, and watered less frequently.
Mow your Sir Walter lawn very low and fertilise it in spring. This removes the thatch build up in your lawn and allows new stolon growth.
Sir Walter does not require a high fertiliser regime. Three applications (in Sep, Dec, and March) of a balanced slow release lawn food, and an additional application of a balanced organic fertiliser in April or May will give excellent results.
Once established, Sir Walter requires much less water than other varieties of turf. Generally speaking, once per week would be adequate, increasing as required during peak summer.
How do you know it's genuine Sir Walter?

Beware of imitators! Genuine Sir Walter DNA Certified is only available from accredited Lawn Solutions Australia members and resellers. Only Lawn Solutions Australia turf producers grow "Breeder Guaranteed" Sir Walter DNA Certified. Look for the Sir Walter DNA Certified Original Breeder logo and be sure to check you have received a copy of LSA's 10 year product warranty certificate with your order.
You can confirm if you have purchased genuine DNA Certified Sir Walter, by contacting LSA on 1300 883 711 or visit lawnsolutionsaustralia.com.au to clarify if the company your purchased from is an accredited LSA member.
How does Sir Walter Buffalo Grass stack up?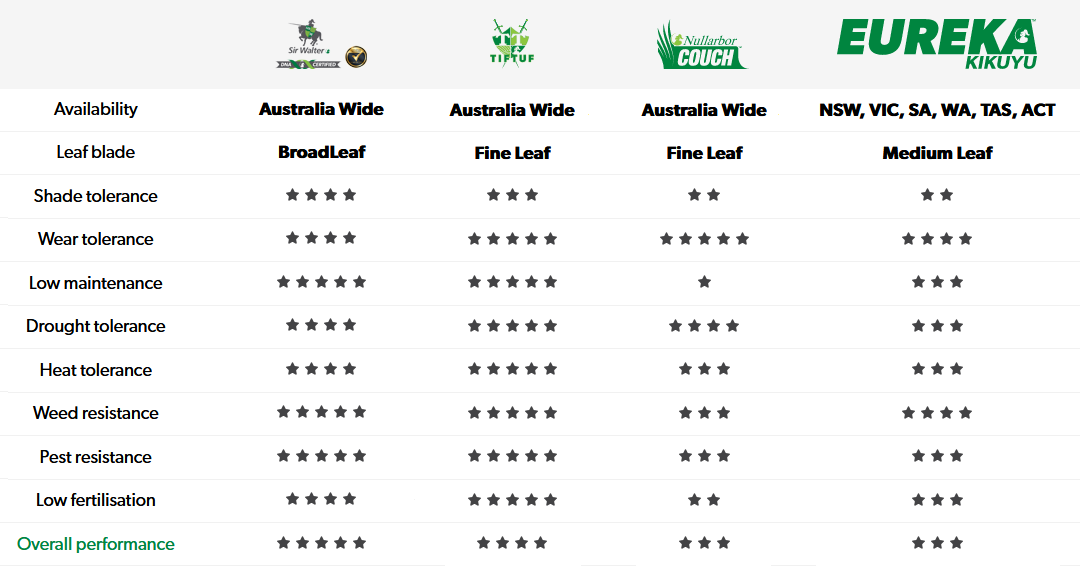 Watch what Jason Hodges has to say
Further reading
View our interactive Sir Walter DNA Certified Brochure for further information on Sir Walter DNA Certified, including preparation, installation, and maintenance tips and support.
We can deliver throughout the Sydney metropolitan area.
For a free quote, call 02 4577 4039